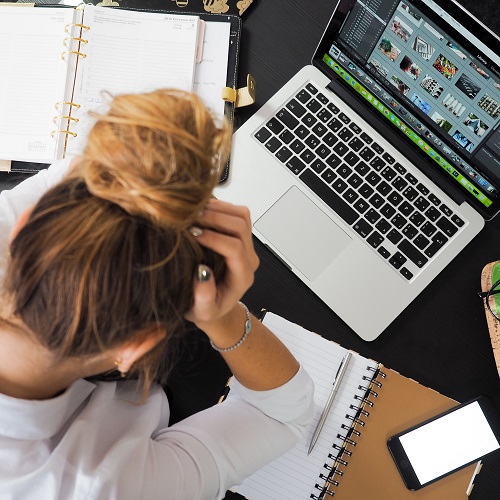 Burn out
Both my work colleagues and friends seem to be talking more about their poor work life balance and the need for more holidays, less weekly hours and more flexible working.
These conversations often begin with talk of constant tiredness and burn out. The term burnout is not new. It was coined in 1974 by Herbert Freudenberger at a clinic for homeless people and addicts.
He recognised that these people were struggling with intense levels of work pressure. The staff became clinically depressed.
Today, burnout is a global problem which is backed up by figures of some 595,000 workers suffering from workplace stress.
The never off society
Social and traditional media channels have pushed out dozens of articles on these subject matters in recent months, and considering the services KML Occupational Health covers, it is one that often comes up from our clients and their employees.
The UK Government states that you can't work more than 48 hours a week, though this is averaged over 17 weeks and falls under the 'working time regulations'. You can choose to opt out of this if you are over 18 years of age, but you must do so voluntarily and put this in writing to your employer.
Certain staff cannot opt out though, clearly for safety reasons. These include, airline staff, workers on ships and boats, drivers of vehicles over 3.5 tonnes and those staff who travel on them such as bus-conductors (not sure when the last time was I saw a bus conductor though?!).
Trainee Doctors and those working in the offshore gas industry have their own set of approved rules.
Your employer cannot force you to opt out though, legally.
Couple this with the boundaries between work and home being blurred by smart phones and other mobile devices and it is no wonder that some of us never switch off.
So what counts as work?
There have been articles in the news recently about how we often work on the move now due to the surge in smart phone and lap top use. I for one check my emails on the train even if I start or finish work long before my contracted 8 to 5 hours. I was tempted to check my emails on a day off recently as I rather impatiently waited to hear about a potential tender success. This was a practise I did far too often in previous employ as I was the designated 'out of hours' pick when calls in came in 7 days a week. Bad idea.
It has been argued that either employees should not do this, be paid to do so or have it included in their paid hours.
The UK Government states that a working week includes time spent travelling when part of your job, e.g. a sales rep. If this is the case then I am personally guilty of working 60 to 80 hour weeks over the last 30 years. It also includes working lunches, time spent working abroad and travel to and from work if you don't have a fixed place of work.
Vacation time
According to an HR expert at a seminar I attended earlier this month, most Millennials will now seek at least 5 weeks paid holiday per year. The speaker went on to say that this was the minimum he would expect.
Whilst 4 weeks or 20 working days is still the UK norm, this want for more is on the increase.
We must though add to this paid public holidays (or time off in lieu – TOIL).
UK workers are entitled to 28 working days off per year (5.6 weeks). This though includes the 8 public and bank holidays. Whilst this is not as much as luckier ones in Panama and Sri Lanka for instance who get 40 days it is still better than our friends across The Pond who can get as little as nothing!
There is no (US) federal or state statutory minimum paid vacation or paid public holidays. Paid leave is at the discretion of the employers to its employees. In fairness though, most private firms in the USA grant their staff 10 vacation days after 1 year of service and paid holiday during the 8 public holidays.
Flexing and balancing
An article by Jane Wheeler on the Personnel Today website states that flexible working requests are set to increase. Almost of half of workers (49%) say that the opportunity to work more flexibly will be the most important benefit to them in the future.
I know of a number of companies local to us in Surrey that have been early adopters of this practice and say that it increases worker wellbeing and productivity. It is said that the Germans work the least hours in Europe but have the highest levels of productivity, and their products seem to echo this.
With my business head on, any flexible working arrangements need to be mutually beneficial to employer and employee though.
Not all companies and the employee roles will suit this way of working, especially in service industries and retail where consumers expect shops to be open every day and for longer periods.
Flexible working can be delivered by altering start/finish times, compressed hours and opportunities to work from home. I like the phrase used by an HR Director I met with recently who preferred the term 'working remotely'.
This might mean from a holiday cottage, so you could leave earlier in the week and be by the beach come evening. It could also mean working in one of the growing number of flexible work spaces at locations owned by We Work and Spaces.
These new businesses allow staff to work away from the office closer to home, but away from home distractions such as the kids, chores and the fridge!
Not all roles suit this flexible approach, but be assured, more flexible working is on the way, and hopefully with it, a happier, happier and let's hope, more productive workplace less prone to burn out.
Mark Blunden