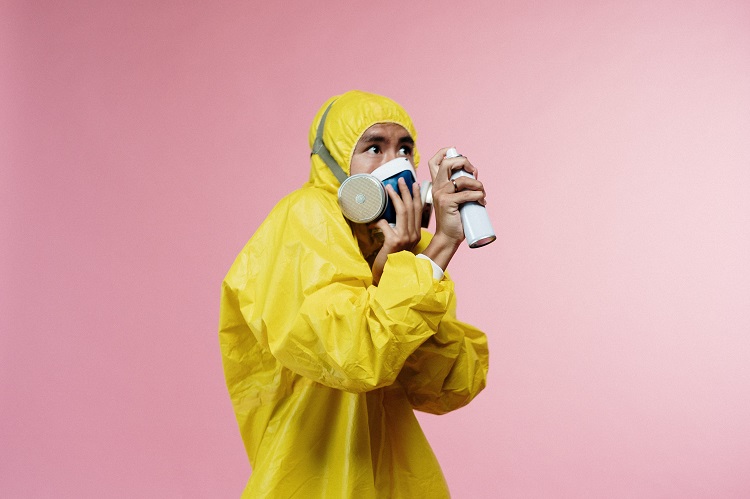 Coronavirus Anxiety and How to avoid it!
COVID 19 and fear – By Graham McDowell
OK so we are now all very familiar with the term 'coronavirus' and we are equally, if not more familiar, with the fear and anxiety associated with it. In this article I offer the perspective that by studying the measures recommended for limiting the spread of the coronavirus itself and for mitigating one's chances of being infected with it, one can equally achieve the same results for coronavirus based fear and anxiety.
First let's consider the similarities between coronavirus and fear; they are both invisible:
They both spread between humans like wildfire
They can both be debilitating and even deadly and if even one person in a household or community becomes infected the chances are more will follow.
Now let's consider the behaviour that is considered high risk for catching coronavirus; well, in simple terms we now know that it's exposure to other humans and the greater the exposure the greater the risk, especially if we or they are in a high risk group. So would you choose today to go where lots of people are sharing the same space? Unlikely I would guess, but if you did, and if you became infected with coronavirus it wouldn't be that much of a surprise would it?
Good advice?
And what advice are we being given to keep us safe from coronavirus? Self-isolation and sanitising what we come into contact with!
So now let's look at how we are most likely to be infected with fear and anxiety; well quite simply in a similar way, it's by choosing to expose ourselves to people or places where there is a high probability that fear already exists. For example, certain news media channels or social media platforms or even particular friends or family members that are already exhibiting all the symptoms!
Now just to be clear, I am not suggesting that we should avoid all media and all people all of the time, I am saying that if we wish to remain as unaffected as possible by anxiety and fear through these challenging times, especially if you are in a high risk group, by which I mean you have a history of suffering from anxiety, then it would be wise to limit your exposure.
For example, if you have no food left and your choice is to starve or visit a supermarket, then we would accept the relatively low risk of a few minutes shopping for groceries compared to starvation. We would not however think it wise to spend hours in the supermarket talking to everybody in sight due to the increased risk of infection.
Fear and paranoia
In the same way, if you want to learn the latest news or get updated on the latest advice, then it makes sense to select a trustworthy source, switch on for a few minutes to hear what you need then switch off again. However, it would not be wise to have the news on permanently and scour social media reading unqualified opinions and conspiracy theories as this is likely to lead to greater anxiety, fear and even paranoia.
And when it comes to family and friends or any other individual you may come into contact with, if they were presenting known coronavirus symptoms, would you stay in the same room as them? No, you would isolate yourself from them for your own protection.
I am merely suggesting that you take similar precautions to protect yourself from those that are clearly presenting symptoms of fear and anxiety because it is just as infectious.
Calm
That having been said, the most helpful course of action with an anxious friend or family member would actually be to help calm and reassure them, but it's obviously only possible to do this if you yourself are calm!
And this then leads us into a major difference between the coronavirus and anxiety, which is that me not having the coronavirus is sadly not a cure for you if you do have it. However, if you are radiating an energy of anxiety and fear but I am radiating an energy of calmness and acceptance then just by being around you, I will help you to feel calmer and more accepting. Meaning that by mastering your own anxiety, you will positively affect everyone you come into contact with.
Isolate your mind
So in short, I would highly recommend that you isolate your mind in the same way that you are isolating your physical body and that you practice sanitising your thoughts in the way that you sanitise your hands or things that you come into contact with.
The way that we think determines the way that we feel, which means that if we fill our minds with images and thoughts that induce anxiety then understand that your brain is hardwired to produce neurotransmitters that will ensure you feel anxious and fearful.
Survival and the sabretooth tiger!
This of course is a primitive survival mechanism designed to protect us in the event of a sabretooth tiger attack, but you must understand two vital things about how your brain works.
Firstly it does not distinguish the difference between a sabretooth tiger attack and the 'thought' of running out of loo rolls and it cannot tell the difference between real life and imagination. Meaning that if you watch or read or imagine terrible things happening, your brain will react as if they are actually happening now!
So I will leave you with something that I teach every single client regardless of what symptoms they present.
As humans we habitually focus on the problem.
But instead, we need to learn to focus on the solution.
And what is the solution?
Stop thinking about the problem!
For offers and details of courses, please contact [email protected]
About the author: Graham McDowell is a mindfulness coach, solution focused hypnotherapist and psychotherapist and creator of Monkey Mind, an online resource that enables organisations and individuals to measure, understand and improve mental wellbeing.