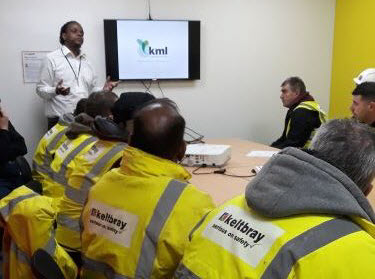 Health Advice Clinics
As part of the KML OH service, we provide Health Advice Clinics to both new and existing clients. To underline our commitment to employee health, we carry out these talks to provide advice on the benefits of Occupational Health which to most is still something they have not taken part in before and know very little about.
These clinics provide a number of benefits;
Awareness: This part of our talks covers making staff aware of what services KML OH offer. This includes;
• What Occupational Health is
• The benefits for staff
• Benefits to employers
• Why both of these above points matter
• Other services we offer
• Management and Self-referrals
• How to book
Prevention
A key focus of talks is to cover simple things that employees can do to prevent needing to see us in the first place. This can be everything from using the correct PPE to advice on how to spot issues before they arise.
Our Occupational Health Assessments: Lots of employees fear being asked to attend an OH assessment. It is not uncommon for people to be concerned that the main reason they are being referred by management, is that they are being earmarked for redundancy.
KML clinicians are there to make sure staff stay in work and are fit enough to carry out their tasks without it effecting their health. During these talks we inform employees on what happens during an assessment and how often these need to be carried out. A question and answer session is always part of the talk.
Mental Health
Whilst KML OH carry out assessments for lung function, sight, hearing and more, the majority of our treatment now consists of mental health issues such as anxiety and stress.
Mental Health is often the reason for long-term absence so we provide advice on how to prevent issues arising and how to reduce the impact when they do. All of our staff, including most of our admin team are Mental Health First Aid trained. This means that our staff can often spot people suffering from health issues of staff whilst in the workplace.
The whole matter of Health and Safety tends to mostly cover safety, but if staff are not physically or mentally fit enough for their jobs, then safety will suffer.
Contact us at [email protected] for further advice. Services start from less than £100.