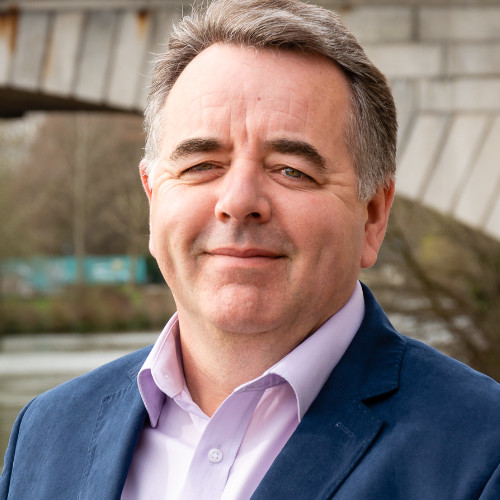 How to help employees manage when life gets in the way of work
"It's just one of those days" is a phrase we often hear when a friend or associate is experiencing an off day. Maybe you have even said it yourself.
It's understandable. Maintaining a good work-life balance is not always straightforward. Any number of occurrences can throw us off course and stop a day from going as planned.
For example, a delayed commute or technology failure can be enough to kick off a difficult day. Meanwhile, break time, which is intended for respite, is often used to catch up on life-admin or cram in appointments. This leaves little time for relaxation.
A day like this can feel like the tip of the iceberg for someone who is struggling with poor mental health. And statistics tell us that's one in four people. The ability to cope with day-to-day stressors can be impaired by the bulk of the iceberg: a build-up of bigger worries, which are usually kept hidden.
When every day turns into "one of those days", it suggests that something more serious is going on.
Why might employees be stressed?
It comes down to the individual and their situation. But multiple studies have warned us that some key causes of stress are:
Financial worries. Job insecurity, inflation and the cost of living all contribute to financial anxiety. Continued worry about finances can lead to both mental and physical signs of stress, severely affecting a person's quality of life.
Family matters. Whether dealing with a tumultuous relationship, going through a divorce or caring for a dependant, family problems can cause unavoidable stress. Even getting married, which should be a joyous occasion, can cause serious stress through the planning or some other issue.
Health concerns. A long-term physical illness can impact a person's mental health. Needing time off work and finding access to support can add more stress to an already difficult situation.
Work stress. One in five workers report that they cannot complete their tasks within their allocated hours. The pressures of an "always on" culture and insurmountable workload can lead to demotivation, stress and even burnout.
Why should employers take note?
Although not all stress is caused by work, it can influence an employee's ability to work well. Keeping personal problems outside of the workplace can become difficult for someone who is stressed and struggling with poor mental health.
Aside from prolonged stress being the biggest cause of absences, costing businesses billions, employees work better when they are happy and feeling well. So, it's in your best interests to promote good well-being and manage the stress levels of your workers.
Managing workplace stress
Some stress is good and can challenge employees to better themselves. But it's important to be wary of limits. As mentioned previously, there could be more going on that you are not aware of. Managing stress effectively is crucial for supporting good mental health in the workplace.
Starting a conversation with simple, open and non-judgemental questions, in a private and confidential setting, can encourage an employee to open up. From here, you can look for ways in which to support them. If you need advice on effective next steps, we can help.
This Thursday 10th October is World Mental Health Day. Whilst it's a great opportunity to review your workplace well-being, we think that a year-round commitment to good mental health is good for business.
Ask us about how you can continue to promote good health and well-being in your organisation.
John Rose
HR Director. Employment law & HR service provider for SMEs.
Change expert. Helping business owners hire & develop talent
hrdept.co.uk/licensees/staines-upon-thames