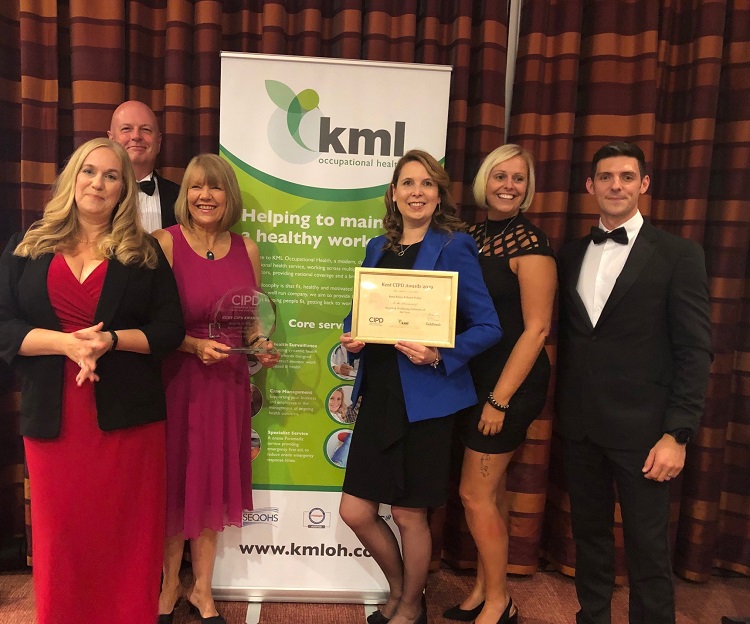 Kent CIPD Health and Wellbeing Initiative Award
KML Occupational Health Ltd, sponsored the Kent CIPD (Chartered Institute of Personnel and Development) award for best Health and Wellbeing Initiative, 2019.
The awards were held at The Ashford International Hotel in Ashford, Kent on Thursday 3rd October 2019.
Over 100 guests and nominees attended this annual event celebrating HR staff, companies and initiatives across Kent.
Nominees for the KML sponsored award were:
Kent Community Health NHS Foundation Trust
Senior Leadership Team and HR at Broadstairs College
Kent Police
Compagnie Fruitiere UK Ltd
Joe Cheal of Imaginarium Learning and Development
After deliberation by the panel and final judgement from the KML Management Team, the award went to Kent Police.
Award submission
The award submission by Kent Police noted their Feel Well, Live Well Programme and suite of initiatives. These were designed and developed in order to promote individuals wellbeing. The programme provided tools and techniques for personal resilience, leadership and psychological wellbeing. All of these aided in the reduction of mental health issues.
Since this programme was implemented in 2014, over 1900 individuals have attended plus a further 353 leaders.
KML were impressed with this programme which covers the very relevant subject of mental health in the workplace. KML have seen a shift from physical health issues to mental health issues which now account for over 60% of cases referred to them by clients.
Adam Hodkinson, KML's Business & Operations Manager said 'we are delighted to sponsor and present this award to Kent Police and join them to celebrate their achievements'.
Adam added, 'General wellbeing in the workplace leads to higher productivity and a proven reduction in sickness absence which costs UK business around £8 Billion per year. Well done to all the team.'